RE-awakening the senses
Hi everyone, how are you doing?
I know I've been missing in action for a few weeks but it was for good reason, we managed to get a late deal to Cornwall, spending a week in Newquay, a week in Mousehole and a night in Exeter to see family.
After months in lock-down, and for me pre-lockdown lock-down, it was just the escape we needed, and I was desperate to see the sea!
For anyone who knows me, I've always been a water baby and feel deeply connected to the ocean, so to drink in the amazing views of the rugged Cornish coast and feel the salt spray on my cheeks has been just the tonic I needed after such a rough year.
My husband is the ultimate pre-planner and whilst we wind him up about it, I'm quite happy for him to work out a rough schedule, whilst I'm chief packer! This means that we got to see the very best of Cornwall, exploring so many beautiful places and ensuring we sampled delicious food too (his absolute priority!).
As we walked the coastal path, felt the sand between our toes on the golden beaches, got tossed around on the waves on body boards, checked out quirky little shops, visited key landmarks and spotted seals and dolphins, our senses that had been dulled in lock-down slowly came alive again.
I was constantly taking pictures, kind of my addiction anyway, but also my son joined in which was really nice to see, my little prodigy in action! It gave me lots of content for my @soothedbynature Instagram account too!
It felt really good to be out on an adventure, seeing new things and changing up what we were doing physically too, both through exercise and what we were eating – I'd become so bored of cooking in lock-down, and eating fresh, delicious seafood was just heaven!
The colours and textures that we saw on the coastal path were simply breath-taking, I could have sat and stared for hours and it wasn't long before I felt the creative itch returning. I sat on Fistral beach and penned a poem about the sea that I'd woken up in the night thinking about.
I started observing the characters and conversations around us and taking in the decorations in shops, bars and outside homes, enjoying the effort people had put in.
I also had the time to read 3 books, The Salt Path that I was partly through, where a couple walk the Cornish coastal path upon becoming homeless and it becomes even more vivid when you can now picture the places they were walking through, it's such an enchanting and moving tale.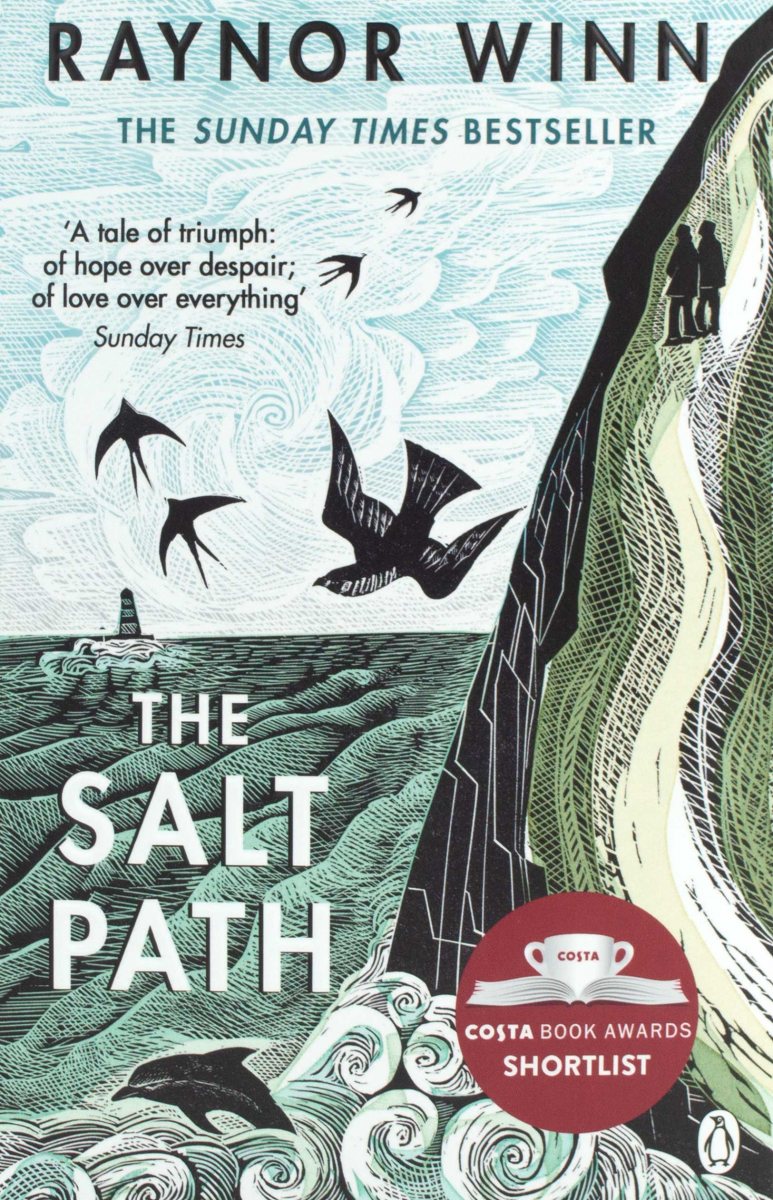 Next, I read Paper Dolls, by Lisa Bradley who is a local author to me who I know as our 2 children go to the same performing arts school. I was so happy to hear she got a publishing deal and couldn't wait to dive in. It's a great thriller with a brilliant ending, which is always key for me, I hate it when an ending lets a book down.
And finally I saved the best till last, Lisa Jewel always releases her books around when I go on holiday and I love that because I have chance to read it properly and devour it over a shorter time, and she never disappoints, her books to me are just an expert lesson on how to develop really great characters and I thoroughly enjoyed 'Invisible Girl'.
It's always during these Summer weeks of reading that I become re-inspired with my own writing and I naturally start looking at things through an author's eyes again which is hard to explain but it's like I start looking around and describing things in my head as you would if you were writing about it if that makes sense?
I wrote almost the full first draft of my novel prior to getting diagnosed last year but then when treatment started I found it more difficult to remember where I was in the story etc and to concentrate for long periods of time.
This year I parked that book until I regained some energy and felt more normal and started writing a none-fiction book instead about my life-long journey with creativity and I'm already a good way into that….but that call of becoming a published novelist never quite goes away and that passion generally returns at this time…so it might be time to start delving back into that story again, alongside the other book too….now if I could just no longer need sleep with all that I want to do, that would be great!
One thing this holiday has also taught me is to commit to more adventures and more exploring, it really does top up your creativity cup and I need to treat it as an intrinsic and valuable part of the process, so I'm going to schedule in a road trip once a month to somewhere inspiring!  I need to create a list where I can get there and back within school hours, so if anyone has any ideas please comment below (I'm in West Yorkshire).
And so, thanks to this holiday I'm now armed with ideas once again! Before I went away I was lucky to sell some needle felt pictures and some more originals and cards are now available at The Flex Collective Co-working space which is exciting and Cornwall definitely brought out the artist in me too, there are so many art galleries and cute shops selling art down there.
I know I'll definitely be creating more art seascapes and getting organised for hopefully upcoming Christmas fairs etc, providing Covid doesn't scupper things.
I'm starting to feel that new term feeling again and a sense of some things returning to normal-ish. My daughter returns to her swimming club this week which will feel so strange but I'm excited for her, she's missed it so much. I normally love September, that sense of hunkering down for the last 3 months of the year and making the most of it in terms of productivity before Christmas.
I'm also so keen to start up my writing workshops again, and hoping Kirklees is eased out of these further restrictions soon so I can make some more definite plans.
And finally, there's just the small matter of another PET Scan to get through and hopefully finally get the proper all clear so that I really can fully crack on with things. The scan is next week so I'm crossing everything that I don't go backwards, my hair is really growing now, and it needs to stay that way!
Twinning with my boy!
So I hope you've had a fantastic Summer and are looking forward to September too and if you are feeling at all lack-lustre or not motivated, jump in the car or go our for a walk and explore for a day, I can practically guarantee it will get you creative juices flowing again…
Until next time…
Juliet, The Curious Creative x