Heading into un-chartered waters…
Warning this may make uncomfortable reading for some
I'll apologise now, this isn't my usual chirpy creative post, much as I wish it could be just another 'normal' post but I figured writing all this down may help me process what is going on, help it sink in and may help others too, so here goes…
For the last 7 weeks I've been having a myriad of health tests, and on Monday (4th November) I get the 'official' results . Patience has most definitely never been my virtue….for example I always have to finish an art piece in one go, when really I should leave it and go back to it, so this waiting in limbo has been a big test culminating in as much distraction as possible.
But you can't distract yourself 24hrs a day and the 99% suspected outcome is laying heavily on my mind, so let me give you a little background, if purely to raise some awareness out there too.
Around 5 months ago I found a smallish painless lump on my left collarbone, I was seeing a physio at the time for a problem with my right shoulder and mentioned it to him as I thought I may have pulled a muscle or something. He said it wasn't a muscle and to keep an eye on it.
And then I promptly forgot. Which is hard to believe but I genuinely did, we had lots going on at the time; we went on holiday at Spring Bank half term and then in July my husband lost his job, which came as a shock. Then we were into school Summer holidays, away again twice and just generally very busy.
Then 7 weeks ago, for some reason on a Monday morning I woke up and just instantly remembered, went to find the lump and realised it was bigger and so immediately booked in at the doctors. Then life pretty much went like this:
Looking fetching in my CT smock!
10 days later appointment at ENT Barnsley hospital. Instant biopsy. Next day Ultrasound. Wait. Wait meant to be 1 week, turned into 3 weeks as biopsy was sent on to Sheffield. Back to ENT for results; 'Inconclusive' and would need a larger biopsy done under general anaesthetic and they'd book me in for a CT scan too. The following week in for Pre-op assessment on Tuesday. CT Scan on the Wednesday which went slightly wrong as the dye went into my bicep rather than vein! Instantly look like Popeye on one arm and it bloody hurt! Manage to get CT done via other arm. Later that day they call me and say they think they can get a better biopsy via a different consultant, can I come in tomorrow? We arrive a little dubious and wonder why the same thing I had done before will now suddenly work. But then I meet Dr Cooke, the radiologist doing the biopsy, who explained more to me in 5 minutes than anyone else over the previous 6 weeks.
My very painful Popeye arm!
On the CT scan they had found 3 other enlarged lymph nodes, one under my arm and 2 smaller ones that had merged behind my heart as well as the largest one on my neck (which was now 3cm x 2.5cm). The biopsy that day would be taken under my arm as it was denser tissue and therefore achieve a better result.
Myself and my husband had researched extensively via Dr Google and had a best guess what it could be and Dr Cooke confirmed what we thought, that he was 99% sure it was some kind of lymphoma (hodgkins and non-hodgkins of which there are 60 types in total) but the prognosis was good because of my age, I was fit (yes I'll take that thank you very much!) and everything is above my diaphragm which is also a good sign.
So now we are just once again waiting for the 'official' results back from Sheffield and then we can get on with a PET scan and then a treatment plan.
So as you can imagine, life is a bit of a whirlwind of hearing nothing and then lots of tests to then waiting again….meanwhile the lump on my neck is growing and I'm trying to get to grips with this slightly surreal new world we now belong to.
And I'm fine, honestly, this is not a doom and gloom story, but it is all very strange, particularly as I don't feel 'ill' , although looking back I think there have been some signs, but ones I wouldn't have attributed to this in a million years.
This is partly why I'm writing this, especially as October is a key cancer awareness month, mainly for breast cancer. But I do think it is also important to take a look at lymphoma too, particularly as it can effect all ages and is actually the 7th most prevalent cancer in the UK and yet you rarely hear about it.
So here are a few facts around the symptoms provided by Lymphoma Action, which have been a great source of information for me, not at all to scare you but to just be aware that if any of these show up, to head to your doctors and not forget about it like I did.
Out of everything this could have been, the Lymphoma suspicion is not the worst one, and is highly treatable and so I am immensely grateful for that. Dr Google had a far less rosy picture for other options such as a lump arising from spreading from another form of cancer such as lung or bowel and so I thank my lucky stars that my prognosis is good and I recognise that for others it's a far more difficult and challenging journey.
We know that cancer now effects 1 in 2 people in their lifetime and that is a very scary statistic, just looking around other family members and friends though, I know that to be true.
But as I wade into these un-chartered waters, I'm learning things left, right and centre about myself:
At the young age of 45 (I still consider that to be young) I am not as invincible as I thought, despite being fairly fit, never smoked, eating well and not a big drinker. It seems sometimes there is no rhyme or reason, no matter how hard I search for one.
I'm a bit mad at this so-called healthy- looking-ish body for letting me down so badly
I am rubbish with having no control. I knew this, but throw in a team of busy doctors and a stretched NHS, there is absolutely nothing I can do to make those results come back quicker, other than pleading a little.
I'm living a life in limbo and this does not sit well with me. Not only this but with my husband out of work and other ill family and friends, I feel like we're currently in a weird universe vacuum where time stands still.
This is causing me to procrastinate with my projects, even more than I normally do. I'm doing bits but my mind is elsewhere, popping back to my phone and checking it hasn't rung
The realisation is setting in that this is going to be my life for the foreseeable future, even when I start treatment, it will be unknown territory, blood tests, treatment, scans to see if it's working, waiting for results, continue/ stop /start something else…..I'm going to have to get my head around this
The treatment side of things is scaring me, particularly as I am NOT GOOD at being ill, stopping still and looking after myself, but again it's the unknown, I'm sure I'll be ok once I get going
But there are also some positives; my family and friends have rallied and everyone is being amazing, even people I hardly know. It certainly makes you feel very loved and that's a lovely feeling.
My husband's walking the dog, doing the early swim runs with my daughter and more house-work – that definitely can be no bad thing!
I haven't completely lost my sense of humour, and this helps the most – although the Popeye jokes went on for just a little too long…
I think I've got out of cooking Christmas dinner – that's reason enough to celebrate!
So, what is helping me in all this?
Research
For me personally it was never any good to tell me not to research. I'm obsessed with all things medical anyway, from my first ever job working for a medical charity and endless episodes of 24hrs in A&E but armed with some knowledge meant the Doctors's suspicions did not come as some huge shocking surprise and already I understood a lot of the terminology.
If you do research though, look at reputable sites only, cancer charity sites such as Cancer Research UK and Macmillan are a good start.
But if you are of a nervous disposition who gets easily terrified then I wouldn't recommend this route.
Distraction
Boy did I need this in those first long 3 weeks of virtual silence. I did every creative class or event possible and met friends whenever I could, otherwise you will literally drive yourself crazy. I even cleaned the house -desperate times!
Communication
Don't feel like you can't be proactive and call the hospital when you've waited passed the time they said results would be back. I wouldn't have known my biopsy had been sent on to another hospital if I hadn't called several times.
Extended Family and friends
It goes without saying to talk about how you are feeling, I'm not especially great with this, preferring to make sure everyone else is ok about things, and just get on with doing my normal things and routine, but eventually I got better at it, even if it was just to say 'FFS when are they going to call me?' out loud.
Telling my Mum was really hard, not least because her brother, my uncle is also on his own cancer path and is very poorly and so I feel like my poor mum is stuck in the middle of both of us, but I knew I had to eventually or she would literally kill me anyway! She says she's currently in denial, her way of dealing with it for now I think and like me she's not overly fussy, which is a good thing for me.
This one has been on a mission to text me everyday and has definitely kept me amused and entertained over 7 very long weeks!
Also, there are different friend's personality types that can help, some will be reliably texting you every day just to check in. Others have helped in getting you're 'news' out to your wider circle which is a big help; some will ask you difficult questions but then may also be the ones to make you lol with their hilarious stories, All have value.
But if there are people who may rub you up the wrong way – for me it's making too much fuss or being overly flippant believing it could all just be fine (when you know damn well it's not), then steer clear, it's their own way of dealing with it, but you won't have the energy for that right now.
People who have gone before
And by this I mean all those million's of people who have had their own cancer journeys, there are so many unbelievably inspiring stories out there such as case studies on charity websites but also the likes of Insta-famous BowelBabe, aka Deborah James who I was following before all this just because she is truly amazing in all the work she's done to raise awareness of bowel cancer, despite being very ill at times with stage 4 of the disease. I've just read her book F.U Cancer which is full of humour but also realistic in what to expect.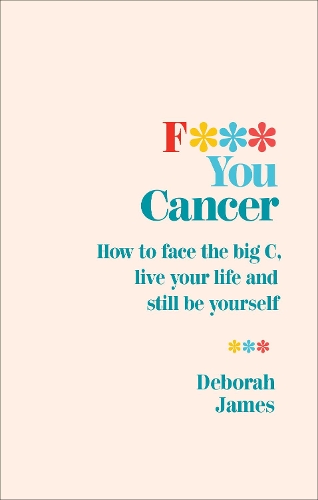 Fresh air and walks
Staying still or pacing the house does not help me. Since leaving corporate life 3 years ago, walking in nature has become such a vital part of my week to keep me grounded, fit and inspired in my creative work so when I've got to fever pitch in overthinking whilst waiting for news I've taken myself out to just breathe, walk and have a word with myself!
And finally my husband, children, and the dog….and most definitely cake!
Telling my children was tough, but I stayed strong because ultimately I know if they see that I'm ok they will be less worried.  I was honest, they're 11 &13 and so were old enough to understand. I told them lymphoma is a form of cancer but a really well treated one and whilst obviously they are not jumping for joy, I hope that's put their minds at rest.
I've put in a request for lots of cups of tea which they've signed up to, and I may even get tidier bedrooms, yeah right! I know I'll get lots of hugs from my son who's a softie anyway, and the odd one or fist-bump from my teenage daughter!
My husband's been great, researching just as much as me so I felt we were in it together from the start. He also knows not to overly fuss over me but has stepped up his game in trying to be funny and I appreciate his efforts – he's the type who laughs at his own jokes! That, some cooking, and the dog walks in the rain have really helped!
And then there's Barley, my ever-happy bouncy cockapoo who jumps on the bed every morning and licks my face until I protest, – she's the biggest cuddly teddy bear and you just can't be miserable around her.
Barley cuddles help, and cake! I'm going to be huge the rate I'm downing cake on a daily basis!
So that's it for now, my landscape has changed but this blog won't, I may mention how things are going now and again or maybe a PS at the end of a post, but I'm not going to change the content to be all about this, or I will have no escape, and you know how much my creative endeavours mean to me so I need that to be very much my focus….I've already thought if I end up having chemo I might take all my art gear in and encourage others having treatment to have a go!
If there are any readers going through similar things I'd love to hear from you or if you have any family or friends going through this and you think this post may help, please do share, I'd really love that.
Until next time, keeping my positive pants on for tomorrow and attempting to be brave for whenever the first treatment will be…
UPDATE: So on Monday I got diagnosed with Hodgkins Lymphoma which is the rarer of the 2 possibilities, Non-Hodgkins is a lot more common. I have more scans and tests this week and next and then the plan is to start chemo on 15th November. There's lots to take in and a 3-6 month journey ahead but at least now know and can get on with it. 
Take care,
Juliet, aka The Curious Creative x
P.s The next WOW Wednesday is coming up on 6th November, 9.30am at Miriam's Kitchen Table, Kirkburton and as always everyone is welcome anytime, we constantly grow and evolve, so why not become part of our community accountability group? It's FREE to join and there's delicious crunches, cakes and much needed coffee to purchase (plus free re-fill)