Why accountability is key to personal growth
Posted on October 1, 2019 by The Curious Creative
As our local community accountability group, 'WOW Wednesday' grows, I wanted to talk to you about how this is working for the diverse range of people that have joined the group, (23 and counting!).
The group came about, primarily for four reasons;
I wanted to help people similar to myself who worked from home, predominantly on their own or who ran their own businesses, in the process of studying for that long held dream, or simply those who had some goals that they wanted to push along with and needed some help.
I wanted it to be something different to what is already on offer out there; an ACCOUNTABILITY group, not networking focussed, although this does happen naturally within the group. We have many networking groups in the local area, that charge a fee to join. I wanted this to be free, open to everyone and involve action – moving forward every time we meet.
I wanted to hold it in a café that shares the same ethos as me, to support the local community. Miriam's café has a large dose of community spirit, she sells third party local products, facilitates workshops (including my writing ones) and most importantly serves delicious locally roasted, Darkwoods coffee and makes the best brunches, lunches and home-made cakes. Holding it here supports her business too.
I run this group with my accountability buddy Clair and this is an extension of what we already do between ourselves, if the worst happened and no one showed up, we could at least just have an accountability meeting ourselves, and some nice coffee and cake while we were at it!
The lovely Miriam in the centre, delicious cakes on the left and the unique ambience she's created in her cafe @miriamskitchentable by partnering with local businesses to sell their products, she even sells my cards there too!
The group only started in June and already is coming together as a formidable force, taking the opportunity to connect with like-minded people and simply get stuff done. We started off with 10 people turning up, a surprise to say the least and it has just grown each week from there with new members joining every 2 weeks.
The reason it works I think is for several reasons;
We are all in the same boat, despite having completely different backgrounds, businesses or interests, we can all identify with the challenges we face
We can bounce ideas off each other, working on your own can be pretty isolating, it's good to talk to others about your plans and gain feedback
There are no airs and graces with this group, we are very open, supportive and usually at least one member of the group has the answer to a particular problem.
They all can see how accountability is working for them. By nailing down 3 key things they want to achieve in their business / work /craft and 1 life goal and confirming that aloud to the rest of the group, they are much more likely to achieve it…..even if it is the night before a meeting (that's usually me!)
We have a Whats App group for those moments of weakness or celebrations in-between meetings. The group often shares interesting links to information or events too.
We know that time is precious, so there's no strict rules about attendance, we know there are other things out there that suck up time, so we'll see them at a future meeting instead.
So why am I telling you all this, firstly it's all about working out how you work best and a great way of doing this is by doing the test that Gretchen Rubin invented called the 4 tendencies (detailed in her book too; The Four Tendencies).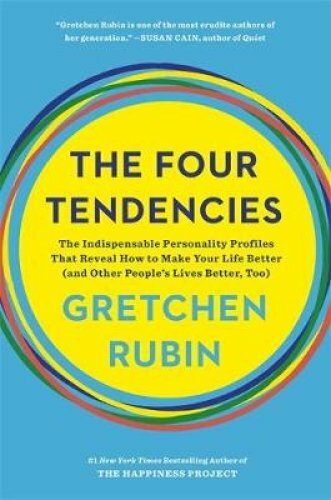 It's all about how we rise to expectations, both internal and external in order to achieve what we want to. There are 4 different tendencies; Upholders, Questioners, Obligers and Rebels and you can find out which you are by doing this short quiz;
https://quiz.gretchenrubin.com/
According to Gretchen, in a nutshell, this is how the types are broken down in response to both internal and external expectation:
Upholders want to know what should be done.
Questioners want justifications.
Obligers need accountability.
Rebels want freedom to do something their own way.
She goes on to say; 'Knowing our Tendency can help us set up situations in the ways that make it more likely that we'll achieve our aims. We can make better decisions, meet deadlines, meet our promises to ourselves, suffer less stress, and engage more deeply with others.
Just as important, knowing other people's Tendencies helps us to work with them more effectively. Managers, doctors, teachers, spouses, and parents already use the framework to help people reduce conflict and make significant, lasting change.'
Unsurprisingly, it's Obligers that come out top in terms of percentage of the types, with many people finding it hard to let others down (meeting outside expectations, more than your own inner ones) but this is where bringing in accountability can actually help you lean in to your type and make your tendency work for you.
And don't forget this isn't a hard and fast rule, there will be situations where you might find yourself becoming more of a questioner for example, but overall, I think it's a useful indication in understanding how you work best.
With permission from our members, I want to just use a few examples of how our WOW group is working for people in completely different ways, so you can see if this might be something that would work for you or you could also set up a similar group in your local area.
So as I said when we first started we had no clue who might turn up and what their motivations were and so we are a very eclectic mix, but that just makes it all the more interesting and gives us a very wide skill bank to call upon for support!
Here are some examples of the diverse people we have in the group who are all at different stages of their businesses / goals and life aspirations!
Michelle is a very busy, driven businesswoman who is juggling some really important aspects of her business right now, for example applying for funding to take her successful social media app further. She brings a wealth of knowledge to the group, such as growth strategy. I think she enjoys offering her skills and support, knowing she can help us, as well as the sense of satisfaction that she's getting from regularly achieving her goals and moving her business forward.
Kelly is studying to become a Counsellor and so is using this group to keep on track with her assignments and planning but also observing what things to put in place when she does fully qualify and can then set up her own practice.
Chris has had his own business making fibre glass products for years but in his words 'is not business-minded'! His first goal on his list was to buy a whiteboard for his workshop to write things on instead of keeping them in his head, he's come on leaps and bounds since joining!
Emma is an artist and a single mum of 2 girls, juggling working part-time, trying to run her own business aswell as managing some health conditions so she has it all going on! She can't always make the meetings but still finds it useful to have a supportive group to tap into and we love her gorgeous artwork!
Stef is right at the beginning of her business journey, having literally just set it up and so is trying to balance all the logistics and planning! It's an exciting but also slightly daunting time so we are happy to help spread the word about her brand-new business.
Jac has a recycled furniture business with her husband and is also a talented pyrography artist. She admits she finds it hard to set goals and is with the support of this group is hoping that this will improve.
Tamara has an essential oils business and does oil based treatments too (she brings her lovely oils to the group too!), she's a mum to 4 young children and has an interesting challenge in that she's probably returning to the States next year, so is in a bit of a dilemma as to how far she wants to take the business over here in the UK, and of course we're helping her with that!
New member Anna, I met through one of my writing workshops and has come to the group to try and figure out what creative direction she wants to go in and so is right at the beginning of her journey.
And finally, Wendy, who comes to the group, not because she needs pushing but actually the opposite. She is constantly trying to reign herself in. She has a busy working life, as a psychotherapist, well-being expert and mindfulness practitioner and when she switches into work mode becomes completely engrossed, Wendy uses the group to set herself targets to limit her working hours as part of her own well-being practice and she regularly gives us wise advice in return!
This is just a third of our group members but hopefully it shows you the diverse range of businesses, personal challenges and what kind of support is helping them by being part of the group. I firmly believe it is the diversity of skills and personalities that really makes this group work.
Just a few of our lovely WOW members, the group has grown to 23 and counting!
Tamara put it best in the first ever meeting, she said;
 'I want to stand next to tall people in order to become taller!'
I think this is a great message, we learn and rise up by supporting and connecting with others and I couldn't be prouder of this group. We all grow and show up in different ways (hence the leaves pic!) and it's great to see people shining in their own unique way. They are a kind, creative and generous bunch who have taught me so much in just 3 months and I know that this will continue!
Being accountable definitely works for me, as proved last year when I worked with Gabrielle Treanor when she was training to be a life coach.
It seems I like to overly please (Obliger tendency!) and so I went above and beyond what I said I would complete, i.e. 8k words written on my novel instead of 5k and on other writing goals I had too – it's funny how sometimes you value other people's recognition of what you've got done more than your own, maybe it feels more valid somehow?
When searching for some positive quotes on accountability, I came across this, which I really like;
'Accountability eliminates the time and effort you spend on distracting activities and other unproductive behaviour. When you make people accountable for their actions, you're effectively teaching them to value their work. When done right, accountability can increase skills and confidence.'
Taken from Cedarville.edu/studentleadership@Cedarville.edu
I think this highlights the positivity of accountability rather than the old school connotation we may have from our educational days, for example; 'You must be accountable for your actions!' if you did something bad or got into trouble.
So, what do you think? Is this something that could really help you with your creative dreams, business goals or even just getting some life plans sorted out? I'd love to hear your thoughts.
If you do think this could work for you I highly recommend finding a like-minded friend who you can trust to push you a little and just commit to reporting what you've managed to get done each week, and of course celebrate those wins, big or small.
Do let me know how you get on!
Until next time…
Juliet, The Curious Creative x
Category: accountability, aims and objectives, branding, celebrate, celebration, challenges, checking in, collaboration, community, community values, conversations of inspiration, courage, Creative, creative ambitions, creative business, creative community, creative investment, creative skills, creative thinking, creativetribe, customer service, dream, entrepreneurs, excellent service, family life, family values, fear, find the time, goal setting, Goals, gratitude attitude, guiding words of wisdom, head space, home-made, idea, ideas, identity, inspiration, journey, keeping positive, kindness, law of attraction, learning, learning something new, let them shine, life, light bulb, light bulb moments, lightbulb, limiting thoughts, local business, mental health, mind chatter, more heads are better than one, motivation, Mum life, new blog, new blog wordpress, opportunity, over thinking, overwhelm, Planning, planning goals, planning projects, refelcting, resource, rise up together, self investment, Self-care, self-made, small business, Social Media, start-up, struggles in life, success, support, team, teamwork, thinking creatively, tips, Top Tips, Uncategorized, Value, wellbeing, what's important?, wins, women, women in business, working from home, working together, wow, wowedTags: accountability buddies, accountability groups, blogging, connections, giving yourself the best chance, Gretchen Rubin, help, inspiration, life, mentors, mentorship, motivation, moving forward, opportunities, opportunity, relationships, self expectation, The Four Tendencies